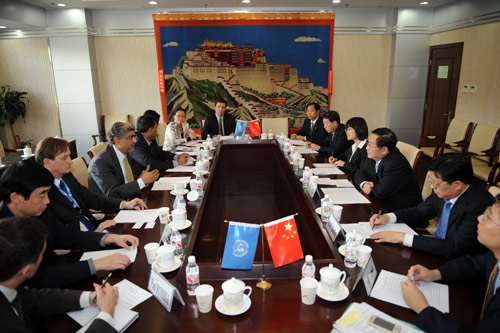 Minister WAN Gang met with Khalid Malik, United Nations Resident Coordinator and UNDP Resident Representative in China, and other representatives from UNESCO, UNDP, UNEP, UNIDO and APCAEM on October 22, 2009, Beijing.
WAN briefed the preparatory work for carrying out the Twelfth-Five Year Plan of S&T Development. He pointed out that to develop S&T, it was a must that we take climate changes, environmental protection, energy conservation and emissions reduction, disaster prevention, disease control, food safety and agricultural development into consideration. Besides, the minister also expressed willingness to share China's experience in developing agriculture and controlling disease with the third world countries.
Khalid Malik said that UNDAF to China for the next five years was under way, matching with the Twelfth-Five Year Plan of China; UN agencies would conduct cooperation with MOST in poverty alleviation through S&T, promotion of low-carbon economy, and carrying out S&T assistance to African countries.