CHINA SCIENCE AND TECHNOLOGY
NEWSLETTER
The Ministry of Science and Technology
People's Republic of China
N0.581

April 30, 2010

 
IN THIS ISSUE

---

* New Energy Auto Demo at Shanghai Expo

*Mount Everest Action for 2010

*WAN Met Russian Guests

*Suspended 3-D Image Display

*Dawning's Blade Server and Cloud Computing

*China's First Distributed GPU System

*Loongson3A Cored Computer

---
WAN Attended Venture Capital Forum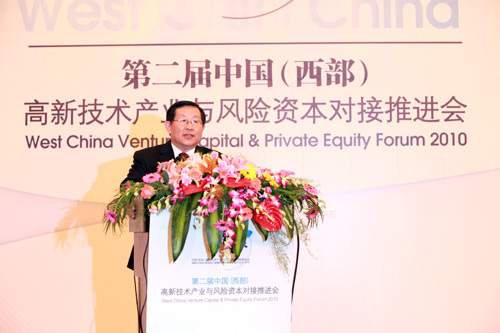 A West China Venture Capital and Private Equity Forum, co-sponsored by the Chinese Ministry of Science and Technology, the Central Committee of China National Democratic Construction Association, Sichuan Provincial Government, and Shenzhen Stock Exchange, was held on April 16, 2010 in Chengdu. Senior leaders, including WAN Gang, Chinese Minister of Science and Technology, were present at the opening ceremony.
The Forum has made a successful 'marriage' between 48 S&T projects and venture capital firms, with a sum worth RMB 2.53 billion, and bank credits up to RMB 2.13 billion. Two new investment funds, worth RMB 270 million, were also established for the purpose. The Forum, the second of its kind held in the country, has become a major platform for S&T business fund raising activities in the west, and has played an important role in S&T findings spin-offs and nurturing emerging industries.

New Energy Auto Demo at Shanghai Expo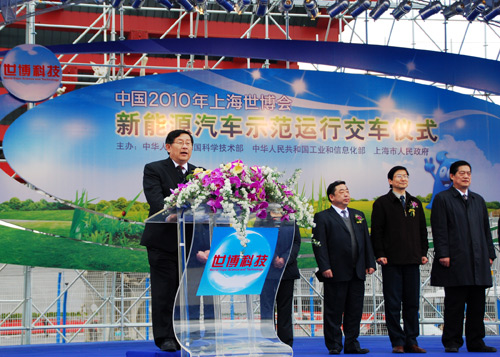 A new energy auto demo, co-sponsored by the Ministry of Science and Technology, Ministry of Industry and Information Technology, and Shanghai Municipal Government, was kicked off April 15, 2010 on the premises of China Pavilion at the Shanghai Expo. Senior leaders, including WAN Gang, Chinese Minister of Science and Technology, attended the delivery ceremony.
As one of the cities selected to demonstrate the application of energy efficient and new energy autos in the country, Shanghai has made the demonstration part of the Shanghai Expo, showing and running 1,017 electric, hybrid, and fuel battery automobiles. Of the automobiles demonstrated, 321 are pure electric automobiles, including 120 passenger buses, 61 super capacitor buses, and 140 shuttle buses; 500 hybrid automobiles, including 150 passenger buses, 350 passenger cars; and 196 fuel battery automobiles, including 6 passenger buses, 90 passenger cars; and 100 sight seeing buses. The demonstration, the largest of its kind in the world, and the second of its kind in the country following a similar demonstration made at the Beijing Olympic Game in 2008, has gathered energy efficient and new energy auto models developed by Shanghai Auto, No. 1 Auto, Chery, Shanghai Fuel Cell Vehicle, Tongji University, and Tsinghua University.
Mount Everest Action for 2010
Mount Everest Action 2010, part of a major series action, was officially kicked off on April 22, 2010 to improve the life of people who are dwelling over the Mount Everest region, the socalled 3rd pole in the world. The action, in year 7, has completed the construction of a primary school and a middle school with the highest elevation in the world, along with some book donations. The action also made electricity available to the natural villages and military posts that sit highest in the world. Meanwhile, it established an environmental education station having the highest elevation in the world. All the efforts have improved people's life in the region.
In the past 7 years, Hewlett-Packard has been part of the action. In 2010, HP, in collaboration with the Chinese Academy of Sciences, established a multimedia lab with the highest election in the world, to observe environmental conditions there.
During the period of 2008-2009, Dupont, in collaboration with the National Research Center for Residence and Living Environment, initiated and completed a demonstration project to build ecological energy saving structures at the foot of Mount Everest, through a Dupont program for improving people's life. The demonstration has further gone to Qinghai Province, where engineers are currently working on an energy saving structures community near the Qinghai Lake, which is scheduled to be completed in July 2010. In 2010, Dupont will complete the planning and design of a teenage activity center, the first of its kind in Tibet through the same program.
INTERNATIONAL COOPERATION
WAN Met Russian Guests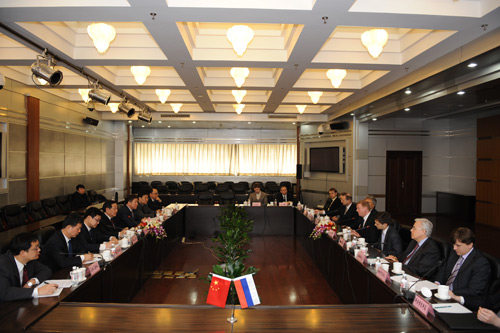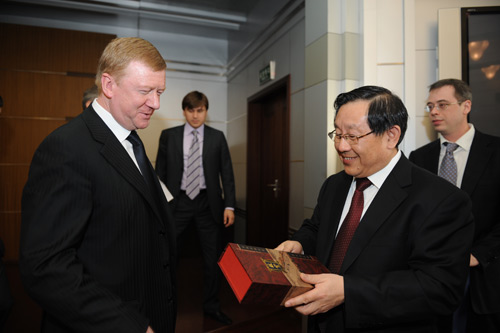 WAN Gang, Chinese Minister of Science and Technology, met withAnatoly Chubais, Director General of Russian Nanotechnology Corporation and his party in the morning of April, 20, 2010. Both sides exchanged views on the R&D and future development trends of nanotechnology and products in the world, and had in-depth discussion of the collaborations between the two countries in the area of nanotechnology. Both sides believed that the two countries have created a fine foundation for strategic cooperation in the area of nanotechnology with huge potentials in the future, thanks to the firm support offered by both governments. Both sides agreed that efforts shall be made to support the substantive collaboration between research institutes and enterprises of the two countries in the area of nanotechnology and products, and associated industrialization, in an attempt to facilitate the spin-off of the findings in the area, raising market share, and enhancing the efficiency of relevant industries.
Suspended 3-D Image Display
A suspended display device able to show 3-D images has recently called a success at the Changchun Institute of Optics, Fine Mechanics, and Physics, part of the Chinese Academy of Sciences. With the help of the device, audiences can view three dimensional images in a 360-degree manner, enjoying a sensational viewing effect. According to researchers who are part of the study, the finding, or single light source based suspended 3-D image display device, produces a viewing angle up to 360 degrees. Applied with a high luminance projection light source, the display is able to produce a 3-D image enjoying a well maintained luminance, even with certain losses caused by parallax barriers, allowing a clearly defined image even in a regularly illuminated environment. The innovative device helps audiences to share an unrestricted view of 3-D images from different angles with a number of other people in a designated viewing area. The finding makes an effective solution to addressing the technical difficulties of displaying a 3-D object in a suspended and all-round manner. The technique, with its future improvements, will find broad applications in advertising, exhibition, and games, presenting an enhanced viewing experience to viewers.
Dawning's Blade Server and Cloud Computing
Dawning made the debut on April 23, 2010 of its LoongSon3A CPU based blade server and cloud computing products. The patented product, enjoying safe, environment friendly, energy efficiency performance, is able to run X86 CPU linuxOS application programs in a seamless manner, thanks to its generic CPU and OS setting. The blade server is built on a mainboard designed by Dawning, running on LoongSon3A, with a BIOS system also developed by Dawning based on PMON, and an operating system developed by Redflag (redflag linux). As a system equipped with the proprietary mainboard, processor, and operating system, the new server enjoys numerous merits, including safe, efficient, energy efficient, and generically applicable. A single LoongSon3A chip will have a power consumption up to 15W, with an energy efficiency at 1.06flops/W, or twice the energy efficiency of X86 CPU. A single two-way SMP board is designed with a power consumption less than 110W, even lower than the power consumption of some X86 CPUs.
In addition to its LoongSon3A products, Dawning also showed its cloud computing solutions. Unlike other cloud computing hardware solutions, Dawning made its cloud computing solution safer, built on ten core technologies, including high-end server, cloud memory system, massive data processing, resource abstraction, intelligent application delivery, cloud management, cloud safety, green computation, and application speed-up.
China's First Distributed GPU System
China's first distributed GPU computing system was put into official operation on April 24, 2010 at the premises of the Chinese Academy of Sciences. With the support of the Chinese Ministry of Finance, CAS has built the super GPU computing system with dual precision peak operations exceeding a petaflop per second, and a single precision peak operation exceeding 3 petaflops per second. In collaboration with Legend and Dawning, CAS has installed 10 computing systems able to work on a hundred-trillion peak operations per second at its subordinated institutes, which in turn builds up a distributed super GPU computing system able to run 6 petaflop operations per second.
At present, a number of research institutes under CAS, including Institute of Process Engineering, Institute of High Energy Physics, and National Astronomic Observatories, have used the computing system to work on high-energy physics modeling and associated experimental data analysis, astrophysics and space science studies, petroleum prospecting data analysis and oil reserve mining process modeling, and industrial and medical image processing. The super computing system has also provided services to a range of projects run by the national programs, National Natural Science Foundation, and large enterprises.
Loongson3A Cored Computer
Not long ago, the University of Science and Technology of China and Shenzhen University jointly made the debut of a high performance computer, KD-60, built with LoongSon3A and other localized components and technologies. Able to run 1 trillion floating-point operations per second, the new computing system has passed the experts' approval on April 17, 2010.
Institute of Computing Technology, a part of the Chinese Academy of Sciences, rolled out in September 2009 a 64-bit high performance generic processor equipped with four LoongSon3A CPUs. With the support of the socalled 985 program, a study team, led by CHEN Guoliang, a Chinese Academy of Sciences academician, has developed the KD-60 computing system built with LoongSon3A CPU, based on several-month painstaking efforts. The new system, sitting in a single cabinet, has some 80 LoongSon3A processors for 1 trillion floating-point operations per second. The hardware is made up of ten 1U compute nodes, one 2U server node and one display, and two IU 48-port gigabit Ethernet module. The system works on open code programs, including GotoBLAS 2, and KD-60 Monitor1.0, enjoying numerous merits, including great compatibility, and easy maintenance/scalability/operation. Comparing with KD-50-1, KD-60 has a reduced size by 2/3, like a household washing machine, with a power consumption up to 2.381 kilowatts, or a 56% cut-down.
Carbon-Fiber Localization
A project to develop polymerization techniques for producing high performance PAN-based carbon fiber, undertaken by Ha'erbin Tianshun Chemicals, has recently passed the experts' approval. The project has achieved innovative developments in a number of areas. Researchers enhanced polymer spinability, and developed the techniques able to produce high performance PAN-based carbon fibers using the 3-element low temperature polymerization technique. They worked out the patented 3-element hardening and shaping techniques to enhance the properties of raw fibers. The enhanced fibers enjoy a reduced pre-oxidation temperature and a steady carbonization process, which in turn cuts down fiber defects in the carbonization process. The reduced temperature has hit the bottom of the temperatures applied for polymerization in the industry. The innovation made the techniques applied meet the criteria of energy efficiency and emission reduction. Researchers also developed a raw fiber oil agent that has been test proved by Beijing Chemistry University desirable for pre-oxidation, without sticking and coking, with a dust rate less than 0.45%. Meanwhile, a vertical gradient washing facility, derived from the same effort, is a unique system in the country, enjoying the merits of energy efficiency and environmental protection.
The project has established a pilot production line with an annual capacity of 20 tons of high performance PAN-based carbon fiber, and has completed the test run of the production line, with high performance raw carbon-fibers produced up to the required standard.
China's First Sea Floor Tunnel
China's first sea-floor tunnel running from Xiamen to Xiang'an, was put into operation on April 26, 2010. Built with six lanes, the tunnel, the largest sectional tunnel in the world, runs 8.695 km long. It shortens the commuting time from Xia'men Island to the continental destination by 82 minutes. Designed by Chinese architects, the three-hole tunnel was built to a depth up to 70m under water, with a sea bed tunnel running for 6.05km. It took 4 years and 8 months for Chinese engineers to complete the construction of the tunnel. The tunnel makes the fifth outlets of the island, enjoying the dual functions of highway and city road, and allowing the island to have an all-weather traffic system.
Recreational Wind Tunnel
A double-deck recreational wind-tunnel, developed by the engineers at China Aerodynamics Research & Development Center, passed an approval check on April 20, 2010 in Chengdu. The entertainment tunnel is able to lift a person up in the air using the controlled artificial air currents, allowing people to feel like fly in the sky. In addition to entertainment activities, the tunnel can also be used to train professional parachutists. The tunnel has been designed to accommodate different weathers. It may open up a closed recreational area in a rainy day, and keep both open and closed recreational areas operational in a fine day. Engineers started to design the tunnel in March 2008, and ran a test operation at the end of 2009, during which several thousand tourists had enjoyed flying experience in the tunnel.
---
Comments or inquiries on editorial matters or Newsletter content should be directed to:
Department of International Cooperation, MOST 15B, Fuxing Road, Beijing 100862, PR China Tel: (8610)58881360 Fax: (8610) 58881364
http://www.most.gov.cn