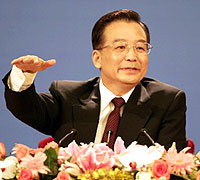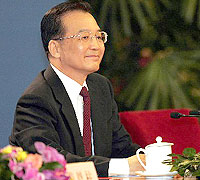 The following are some quotable quotes from Chinese Premier Wen Jiabao's press conference held in Beijing on Monday, shortly after the annual full session of China's top legislature, the National People's Congress (NPC), ended.
"The top priority for the government is to further strengthen and improve macro-regulative policy and measures in order to maintain a steady and fairly rapid economic growth."
"The Chinese economy is like 'sailing against the currents': either it keeps forging ahead or it will fall behind."
"We must take into consideration the national interest but alsothe impact (of the exchange rate reform) on neighboring countries and the world."
-- Wen on China's economy
"(The Anti-Secession Law) is not a law of war but one for the peaceful reunification of the motherland. It is not a law intended to change the status quo that both sides of the Taiwan Straits belong to one China, but one conducive to peace and stability across the Taiwan Straits."
"We are not willing to see that any foreign interference would occur, but we are not afraid of any interference should it occur."
"So long as there is a glimmer of hope for peaceful reunification, we will exert our utmost to make it happen rather than give it up."
-- Wen on Anti-Secession Law and the Taiwan Issue
"I want to clarify a fact that over the past hundred years, China has never sent a single soldier to occupy even an inch of foreign land."
-- Wen on China's national defense
"Over the seven and more years, Mr. Tung has done a tremendous and creative job."
"He was hardworking with few complaints and showed his strong sense of responsibility,"
- Wen's comments on Hong Kong SAR's former chief executive Tung Chee Hwa
"I hope you can send my message back to the great Indian people,that we're not competitors, we are friends. Both China and India should fully recognize the great significance of Sino-Indian friendship, not only to Asia, but also to the entire world."
"China-Russia energy cooperation is an important part of bilateral cooperative friendship and is based on equality and mutual benefit."
"Obstacles to China-Japan relations are particularly in the political sector and the fundamental issue is how the Japanese side views correctly the issues left over from history."
-- Wen on China's relations with India, Russia and Japan
"We should give more, take less and further liberalize the rural productivity."
-- Wen on agriculture, rural areas and farmers.