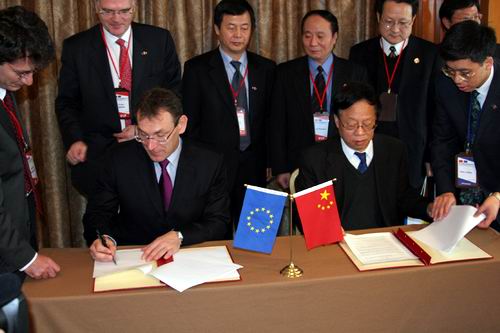 "The 6th China-EU Energy Conference" was successfully held in Shanghai on 20-21 February, 2006. The conference was jointly sponsored by the Chinese Ministry of Science and Technology and the Directorate-General of Energy and Transport of the European Commission, with full support from the People's Municipal Government of Shanghai. About 250 high level representatives from relevant government departments of both China and the EU, the energy sector and related enterprises and organizations, research institutes and financial organizations attended the conference. MA Songde, Vice Minister of Science and Technology of China, Andris Piebalgs, Energy Commissioner of the European Commission, YAN Juanqi, Vice Mayor of Shanghai, and Hans Dietmar Schweisgut, Ambassador to China from Austria, the Presidency of the EU, were also present at the conference and delivered addresses respectively.
Topics of discussion at the conference included energy supply, renewable energy, energy efficiency, security of nuclear energy, and close relationship between energy policy and research together with environment policy. 20 delegates from both China and the EU delivered key note addresses on the various topics at the conference. The participants exchanged views and held discussions on issues of common interest.
"The China-EU Energy Conference" is one of the important activities of China-EU exchange and co-operation in the field of energy. It is actually the largest-scale and highest-level conference between the Chinese government and the EU Commission in the energy sector. It is held alternately in China and the EU once every 2-3 years. There have been five sessions of this conference since its initiation in 1994.