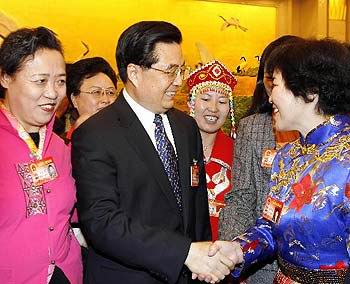 President Hu Jintao shakes hands with female deputies from Heilongjiang Province to the 4th Session of the 10th NPC in Beijing on March 8, 2006. Hu attended the group discussion by deputies from Heilongjiang March 8. (Xinhua Photo)
Wu Bangguo (2nd R), chairman of the Standing Committee of the National People's Congress (NPC), speaks during the group discussion by deputies from north China's Inner Mongolia Autonomous Region to the Fourth Session of the Tenth National People's Congress, in Beijing, capital of China, on March 8, 2006. Wu attended the group discussion by deputies from Inner Mongolia March 8. (Xinhua Photo)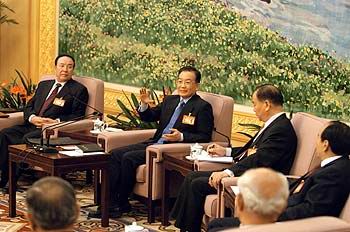 Chinese Premier Wen Jiabao (2nd L Rear), speaks during the group discussion by deputies from northwest China's Xinjiang Uygur Autonomous Region to the Fourth Session of the Tenth National People's Congress (NPC), in Beijing, capital of China, on March 8, 2006. Wen attended the group discussion by deputies from Xinjiang March 8. (Xinhua Photo)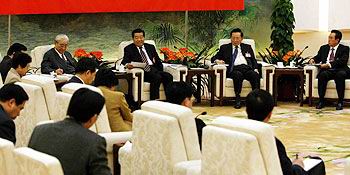 Jia Qinglin (3rd R Back), chairman of the National Committee of the Chinese People's Political Consultative Conference, attends the discussion by the Taiwan delegation to the Fourth Session of the Tenth National People's Congress (NPC), in Beijing, capital of China, on March 8, 2006. (Xinhua Photo)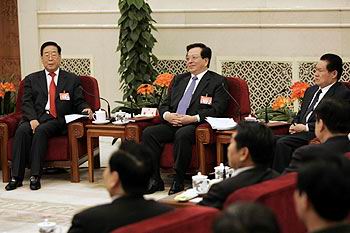 Chinese Vice President Zeng Qinghong (C) attends the group discussion by deputies from southwest China's Sichuan Province to the Fourth Session of the Tenth National People's Congress (NPC), in Beijing, capital of China, on March 8, 2006. (Xinhua Photo)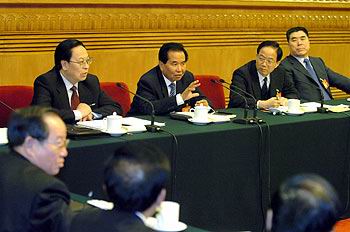 Wu Guanzheng (3rd R), secretary of the Central Commission for Discipline Inspection of the Communist Party of China, speaks during the group discussion by deputies from central China's Henan Province to the Fourth Session of the Tenth National People's Congress (NPC), in Beijing, capital of China, on March 8, 2006. Wu attended the group discussion by deputies from Henan March 8. (Xinhua Photo)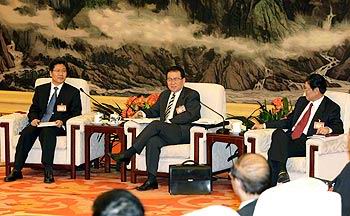 Li Changchun (C Rear), member of the Standing Committee of the Political Bureau of the Central Committee of the Communist Party of China, attends the group discussion by deputies from central-south China's Hunan Province to the Fourth Session of the Tenth National People's Congress (NPC) in Beijing, capital of China, on March 8, 2006. (Xinhua Photo)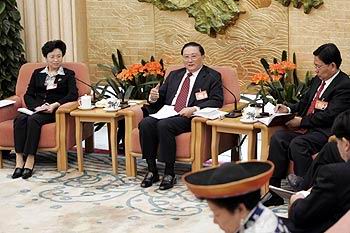 Luo Gan (2nd L Rear), secretary of the Committee of Political Science and Law Under the Central Committee of the Communist Party of China, attends the group discussion by deputies from northwest China's Qinghai Province to the Fourth Session of the Tenth National People's Congress (NPC), in Beijing, capital of China, on March 8, 2006. (Xinhua Photo)
---------------------------
President Hu Jintao, top legislator Wu Bangguo and Premier Wen Jiabao joined lawmakers from all over the country in group discussions on Wednesday, calling for hard work to boost economic and social development and build a harmonious society.
The 10th National People's Congress (NPC), the Chinese legislature, is holding its annual full session in Beijing, bringing together more than 2,900 lawmakers.
"We shall seize opportunities to readjust economic structure and change the mode of economic growth to improve economic efficiency," Hu, also general secretary of the Central Committee of the Communist Party of China (CPC), said while exchanging views with NPC deputies from Heilongjiang Province, an old industrial base in the northeast.
Hu said it is imperative to build an industrial structure with the high-tech sector acting as a leading driving force, where the traditional manufacturing and tertiary sectors should enjoy overall development.
During the discussions with legislators from Inner Mongolia Autonomous Region, Wu Bangguo, chairman of the 10th NPC Standing Committee, said that to build a new countryside is a task of historical significance. "We shall make all efforts to increase rural people's income," Wu said.
"We shall carry out the policies of equality, unity, mutual assistance and common prosperity in various ethnic groups," said Premier Wen Jiabao in his discussions together with deputies from Xinjiang Uygur Autonomous Region.
"We will make it a priority to shore up the development of areas inhabited by people of ethnic minorities," the premier said.
Vice President Zeng Qinghong, and senior Communist Party officials Wu Guanzheng, Li Changchun and Luo Gan joined the discussions of lawmakers from Sichuan, Henan, Hunan and Qinghai provinces, talking about issues concerning countryside development, anti-corruption, cultural development and social stability.
All of them are members of the Standing Committee of the Political Bureau of the CPC Central Committee.
(Xinhuanet)