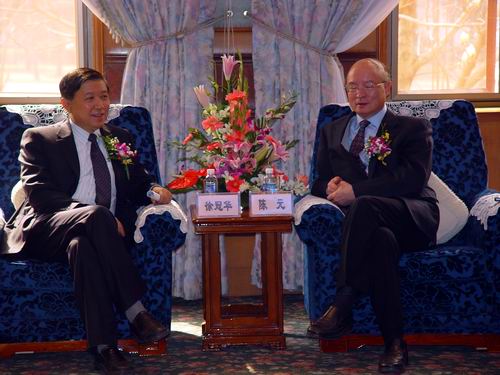 In order to carry out The Outline of National Medium and Long-term S&T Development Plan (2006-2020) (Outline) and its supporting policies, to promote innovation in enterprises, and diversify investment channels for science and technology development, on March 20th, Ministry of Science and Technology (MOST) and China Development Bank (CDB) signed the Developmental Financial Cooperation Agreement on Supporting Indigenous Innovation, with a total loan of RMB 50 billion Yuan. This agreement is the first financial policy ever implemented among supporting policies of the Outline. It is also a concrete measure to financially support the Indigenous Innovation.
Mr Xu Guanghua, Minster of Science and Technology, and Mr Chen Yuan, President of CDB on behalf of both sides signed the Agreement. Mr Gao Jian, Vice President of CDB and Mr Zheng Guo'an, Deputy Secretary-General of MOST also attended the signing ceremony.
According to the Agreement, CDB will provide a loan of RMB 50 billion Yuan to MOST during the 11th Five-year Plan. Thus this agreement combines MOST'S coordination and administration advantage with CDB's advantage of developmental financing. In this way, both sides support key national specific program and the significant S&T projects listed in the National S&T development programs as well as accelerate commercialization of scientific findings. Meanwhile, relying on the MOST to coordinate the nation's S&T resources, easy access to the projects, professionals, information and policies, may help increase the investment in R&D and guide investment to commercialize the S&T products so as to take a larger proportion of the investment in indigenous innovation.
This agreement has profound and positive significance from the following three aspects.
First, it provides stable, long-term, and policy-guided financial support to key S&T projects in the Outline, small and medium-sized S&T companies and investment in starting–up S&T business.
Second, the financial support from CDB may attract more investment for S&T development from other financial institutions. Applying the theory of developmental financing, China Developmental Bank adopted new measures to address the reality confronting the S&T projects and High-tech enterprises, according to which a series of platforms has been established for the corporation among science, technology and financing. Currently, these platforms have play well to aid S&T development.
Third, the Agreement has also promoted the combination of scientific and financing innovation, through which a new mechanism is established for the cooperation between S&T and financial support.