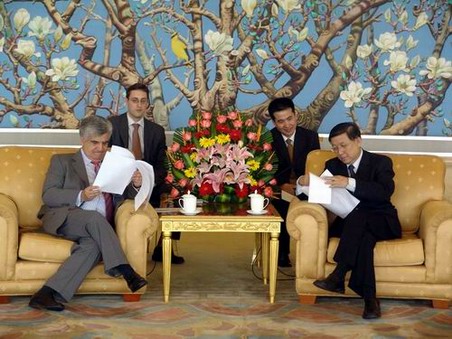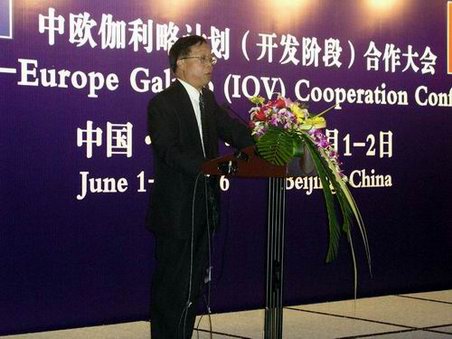 The National Remote Sensing Center of China and the Galileo Joint Undertaking co-hosted the China-Europe Galileo (IOV) Cooperation Conference on June 1st and 2nd in Beijing Hotel.
Before the meeting, XU Guanhua, Chinese Minister of Science and Technology met with Serge ABOU, EU Ambassador to China, Jean-Jacques DORDAIN, Director-General of European Space Agency (ESA), and Rainer GROHE, Executive Director of Galileo Joint Undertaking. MA Songde, Chinese Vice Minister of Science and Technology, delivered a speech at the conference. Over 30 delegates from EU Galileo Program Office, ESA, Austrian Federal Ministry of Transport, Innovation and Technology, Finnish Ministry of Communications and Transportation, European Media Consulta (MC), and European industrial community were present at the conference. Around 150 delegates from 68 entities, including China National Space Administration and Ministry of Foreign Affairs, participated in the conference. Speeches and reports on China-EU Galileo cooperative projects were delivered by 29 governmental officials and industrial representatives.
The goal of the conference, promoting the following-up cooperation based on the In-Orbit Validation (IOV) phase, was met with great success. The China-EU senior officials and experts exchanged views on the Galileo projects and up-coming joint efforts.
Galileo cooperative project is the largest S&T collaboration project between China and Europe. Since the signing of related agreements, great accomplishments have been witnessed under the concerted efforts. 11 IOV-phase projects have been undertaken by Chinese enterprises, concerning space segment, ground segment and user segment.