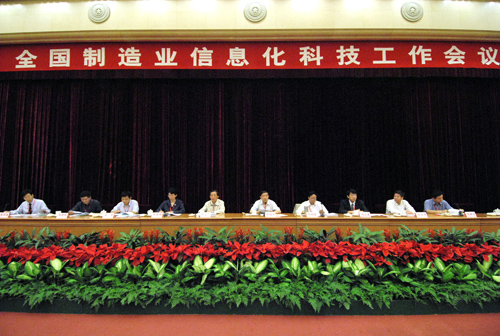 The working meeting of National Project of Manufacturing Informatization was convened on September 12th. XU Guanhua, Minister of Science and Technology, delivered a speech, titled "Enhancing Competitiveness of Manufacturing Industry through Informatization". He outlined manufacturing informatization as a key task in the mission of "underpinning development through science and technology".
Minister XU referred to technology innovation as a highlight in the Outline of National Medium and Long-term Science and Technology Development Plan. The system, featured by integration of enterprises, universities and academia, with enterprises as the main player, is a key approach to promote innovation.
To address problems in manufacturing informatization, he emphasized that S&T should back economic development; effective mechanisms should be explored; synergy should be encouraged, with an equal footing to consultative service and inter-disciplinary talents.
During the meeting, participants reviewed achievements made in the sector. They also exchanged ideas and made arrangements pertinent to the plan and task. It's been learned that a document will be promulgated after the meeting, titled Guidance to the National Project of Manufacturing Informatization in the 11th Five-year Plan Period.