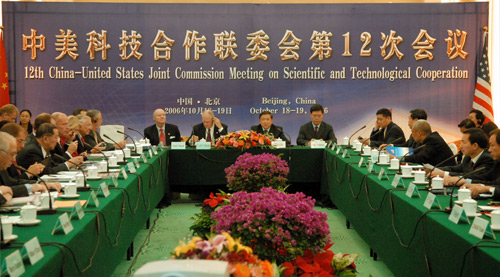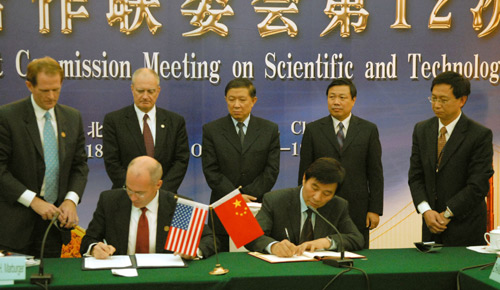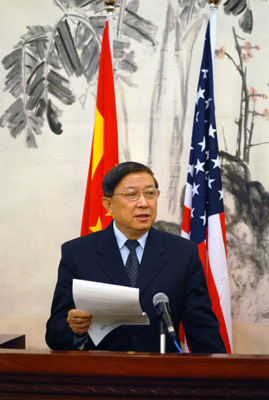 The 12th China-US Joint Commission Meeting on Science and Technology Cooperation was held in Beijing on 18-19 October 2006. This meeting took place after the National Conference on Science and Technology concluded successfully in January with the promulgation of the Outline of the National Medium and Long-term S&T Development Plan (2006-2020), President HU Jintao paid a successful visit to the US in April this year and the two governments renewed China-U.S. Science and Technology Cooperation Agreement. XU Guanhua, Chinese Minister of Science and Technology and Dr. John Marburger, Science Adviser to the US President and Director of the Office of Science and Technology Policy in the White House jointly presided over the meeting. Over 100 representatives from both countries attended the meeting.
The meeting reviewed the progress achieved in intergovernmental S&T cooperation since the 11th China-US Joint Commission Meeting was held in 2004. Representatives from the two governments introduced the science and technology policies issued most recently by the governments of the two countries and mainly discussed cooperation in advanced clean energy technology, nuclear safety and peaceful utilization of nuclear technology and agricultural science and technology. Representatives from the Chinese Ministry of Foreign Affairs, Ministry of Education and so on delivered speeches at the meeting. The US representatives came from the State Department, Department of Agriculture and Department of Commerce.
At this meeting, the two sides achieved new breakthrough in a number of hot issues of cooperation and reached extensive common understanding. Minister XU Guanhua formally announced at the meeting that China would start negotiations with the US on China's participation in the government steering committee for FutureGen sponsored by the US and hoped that they would soon reach common understanding and sign agreement. LIU Yanhua, Chinese Vice Minister of Science and Technology, signed a memorandum of understanding on cooperation in environmental protection with John Gray, Assistant Administrator of US Environmental Protection Agency. During talks with Lautenbacher, Administrator of National Oceanic & Atmospheric Administration (NOAA), Vice Minister LIU agreed to kick off China-US cooperation in earth observation and global change. SHANG Yong, Chinese Vice Minister of Science and Technology, reached consensus with Kathie Olsen, Deputy Director of the US National Science Foundation and Hratch Semerjian, Chief Scientist of American National Standards Institute on strengthening bilateral cooperation in basic research and nanometer science and technology. The US State Department proposed the initiative on "Advanced Research Agenda" Program, which aims to reinforce cooperation in basic research and send more US scientists to China to carry out cooperative research. The Chinese side gave active response to the initiative. They also briefed the meeting on the situation relating to China's construction of "Tianjin National Bio-Medicine Park" and "Jinan National Information Software Park". The two sides also explored further exchange and cooperation in high-energy physics (Neutrino Experiments at Dayawan Nuclear Power Station), new energy, substitute energy and renewable energy (particularly biomass energy). Both sides agreed to carry out joint study and key technology demonstration and industrialization in energy and boost technology transfer.