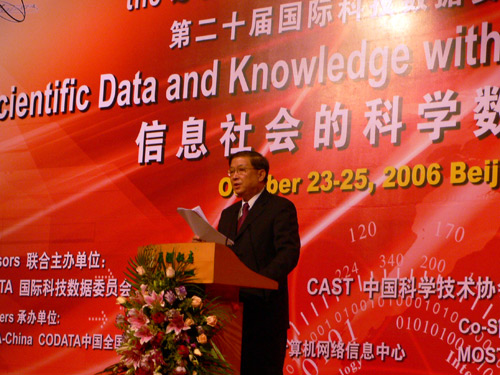 The20th International CODATA Conference was convened in Beijing on October 23rd. Minister XU Guanhua of Science and Technology attended and addressed the conference. China has shared data in 24 subjects of six major areas, including resources and environment, agriculture, population and health, basic research and cutting-edge technology, engineering technology and regional integration. The disciplines have covered six catalogues as classified in GB/T13745-92, such as natural science, agricultural science, medical science, engineering and technology science, arts and social science.
Minister XU commented on the goal of data sharing as follows:
--Build up a well-structured network of scientific data management and sharing that fall in the areas of basic research and research for public welfare.
--Wind up the formulation of policies, regulations and standards pertinent to data sharing.
--Realize effective management and sharing of scientific data to meet the needs of innovation and socio-economic development.
--Cultivate human resources.
The basic framework of scientific data sharing is a three-layer portal structure, comprised of 40 data clusters and websites, 300 or so databases, and a portal site.