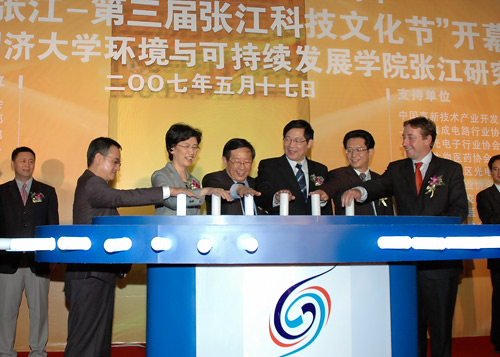 In order to celebrate the 15th anniversary of Shanghai Zhangjiang Science Park, the 3rd Zhangjiang S&T Cultural Festival was grandly inaugurated on 17 May. This festival was hosted jointly by the People's Government of Pudong New Area, the Torch High Tech Industrial Development Center of MOST and the Shanghai Science and Technology Commission.
At the opening ceremony, WAN Gang, Minister of Science and Technology, YANG Dinghua, Vice Mayor of Shanghai and Achim Steiner, Executive Director of UN Environment Program together with representatives of pioneering leaders in Zhangjiang Science Park set off the "Energy Bar" device that symbolized constant injection of vigor into innovation, marking the official inauguration of the 2-month Zhangjiang S&T Cultural Festival.
The theme of this festival is "All Rivers Empty into the Sea, Every Progress Originates from Innovation". The festival is comprised of theme activities, specialized forum and cultural activities. The festival will close at the end of July.