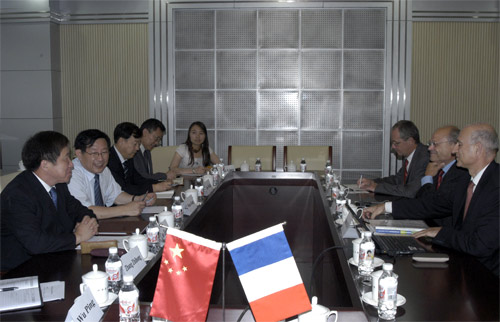 Minister of S&T WAN Gang and Vice Minister CAO Jianlin met with General Secretary SAINT-MARC of Inter-ministerial Group on Mobility and Electric Vehicles, and Vice President OLIVA of Michelin Company.
Minister WAN welcomed Michelin to holding Challenge Bibendum again in Shanghai, together with which, the "Global Clean Vehicle Exhibition" will be inaugurated in Beijing. Through the two events, China's determination and actions of energy conservation and emission reduction will be shown to the world. Besides, Minister WAN introduced a series of environmental protection measures to be used in energy, traffic, sewage processing and reclaimed water recycling during 2008 Beijing Olympics. He hoped that the world can notice both China's economic growth and its great efforts in energy conservation and environmental protection. Minister WAN proposed further cooperation in the new generation battery R&D and the industrial application based on the long-term relationship.
Mr. SAINT-MARC extended his wish to promote cooperation and his confidence that the new French government will more enthusiastically carry out cooperation with China in clean vehicles. Mr. OLIVA briefed on the wheel-hub driving system of electric vehicle and the preparation for Shanghai Challenge Bibendum on November 14-17. He also expressed gratitude for the persistent support from MOST.