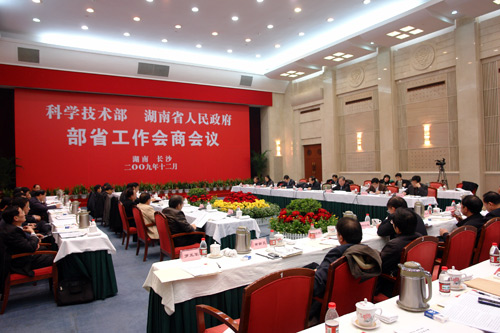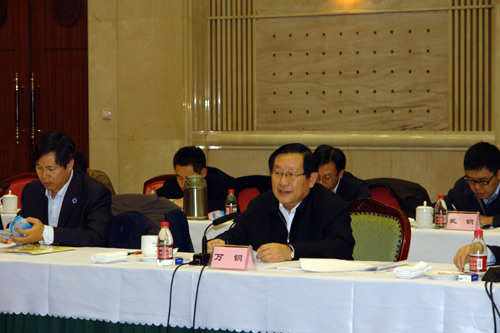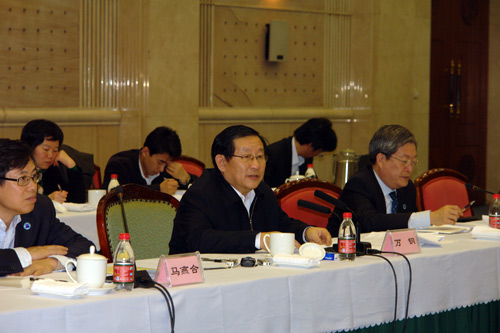 The 2009 MOST-Hunan Consulting Meeting was held on December 24 in Changsha, Hunan Province. MOST Minister WAN Gang, member of MOST Party Group GUO Xiangyuan, Governor of Hunan province Zhou Qiang, and Vice Governor Yongwen were present. The meeting was presided over by GUO Xiangyuan.
Minister WAN highly affirmed the Hunan Province's efforts in science and technology. He hoped that Hunan could put the ideas of Central Economic Work Conference into practice, facilitate new strategic industries, including modern agriculture, new energy, advanced manufacturing technology, electric vehicles, new materials, and biomedicine, revitalize trade through science and technology, and promote technical innovation projects.
During the meeting, participants from MOST and Hunan reached consensus on the following key points of cooperation: strengthening support to Changsha, Zhuzhou, and Xiangtan in building them into resource-conserving and environmentally-friendly cities, promoting technical innovation projects, new strategic industries, and the construction of new countryside in Hunan.