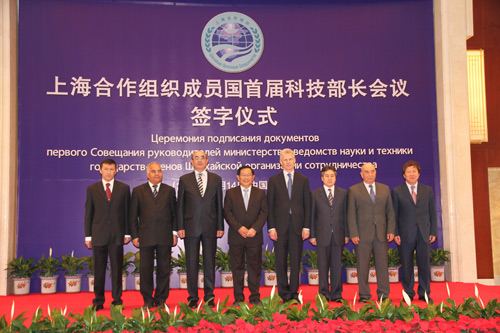 The 1st Science and Technology Ministers' Conference of Shanghai Cooperation Organization (SCO) was held on May 14, Beijing.
Science and Technology Ministers of SCO member countries were present at the event, including MOST Minister WAN Gang and SCO Deputy Secretary-General Anvar Nasyrov. The participants exchanged ideas on the prospect of multilateral cooperation in science and technology under the SCO framework. They also agreed to establish a mechanism of regular meeting for science and technology ministers and a permanent working group for science and technology cooperation among SCO member countries.
The conference was chaired by Vice Minister CAO Jianlin of MOST. State Councilor Liu Yandong met with the heads of SCO member delegations on May 13 in the Hall of Purple Lights of Zhongnanhai .