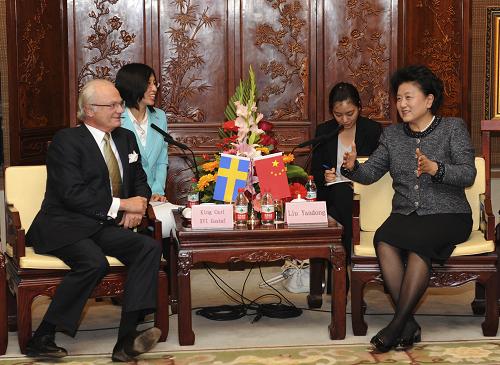 Member of the Political Bureau of the CPC Central Committee LIU Yandong met with visiting King of Sweden Carl XVI Gustaf and the delegation of Royal Swedish Academy of Engineering Sciences (IVA) on Nov. 9 of 2010 in Beijing. MOST Vice Minister CAO Jianlin was present at the meeting.
Liu briefed the Swedish Guests on the development of the science and technology in China, and attended the signing ceremony of the Memorandum of Understanding in Cooperation between the Chinese Academy of Engineering (CAE) and the Royal Swedish Academy of Engineering Sciences.
King Carl XVI Gustaf conferred the title of IVA foreign academicians on Zhou Ji, CAE President and Academician; Gu Binglin, President of Tsinghua University and Academician of the Chinese Academy of Sciences; and Wu Zhiqiang, Professor of Tongji University.