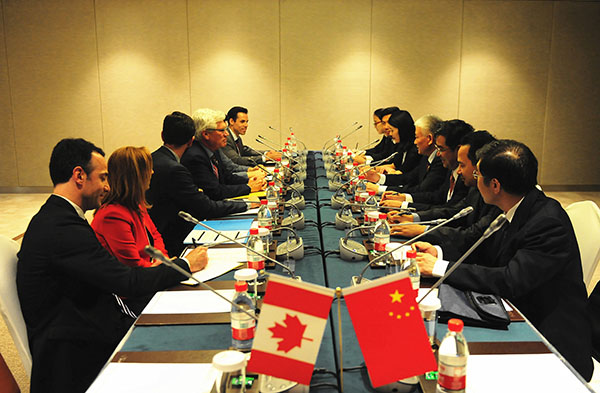 On June 7, 2017, Vice Minister Wang Zhigang of the Ministry of Science and Technology had a meeting with James Carr, Minister of Natural Resources of Canada in Beijing.
Vice Minister Wang extended a warm welcome to Minister Carr for visiting China and attending the Eighth Clean Energy Ministerial (CEM8) and the Second Mission Innovation Ministerial (MI-2). Vice Minister Wang spoke highly of the close communication and exchanges between the two sides in science, technology and innovation. He pointed out that clean technology was a key field of cooperation jointly confirmed by the two sides and hoped that the two sides could continue to push forward collaboration in clean technology innovation under bilateral and multilateral mechanisms and jointly cope with global challenges including climate change.
Minister Carr appreciated the CEM-MI Summit organized by the Chinese side and said that Canada adheres to green and low-carbon development and is willing to work with China to push forward clean energy collaboration.
Director-General of Science and Technology for Social Development Wu Yuanbin and Director-General of International Cooperation Ye Dongbai of the Ministry of Science and Technology were present at the meeting.