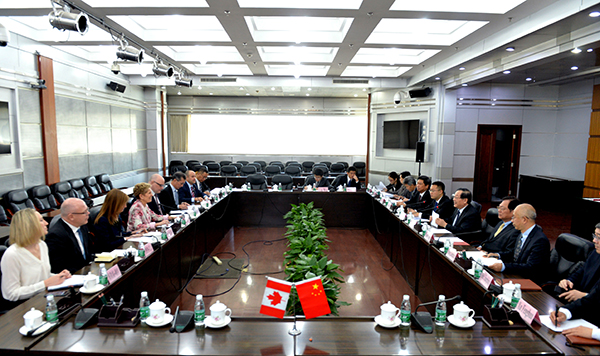 On November 24, 2017, Minister Wan Gang of the Ministry of Science and Technology met with the Canadian delegation led by Ontario Premier Kathleen Wynne.
Minister Wan Gang welcomed Premier Wynne on her third visit to the Ministry of Science and Technology and spoke highly of the various cooperation platforms which the two sides have gradually established through close exchanges. These platforms have not only fostered outstanding research and development projects in key areas but also encouraged the exchange of researchers which in turn led to long-term and stable cooperation between institutions. Minister Wan Gang introduced China's National Innovation-Driven Development Strategy Outline and Thirteenth Five-Year National Plan for Science and Technology Innovation and hoped that the two sides would seize opportunities in the global wave of science and technology innovation, deepen pragmatic cooperation in biomedicine, information & communication technology, artificial intelligence and other areas of common interest, and step up innovation and entrepreneurship support for young people.
Premier Wynne agreed with Minister Wan Gang's suggestions and briefed the host on Ontario's key measures to support young people in innovation and entrepreneurship. She also expressed the willingness to engage in close cooperation in medical technology against aging and other common challenges.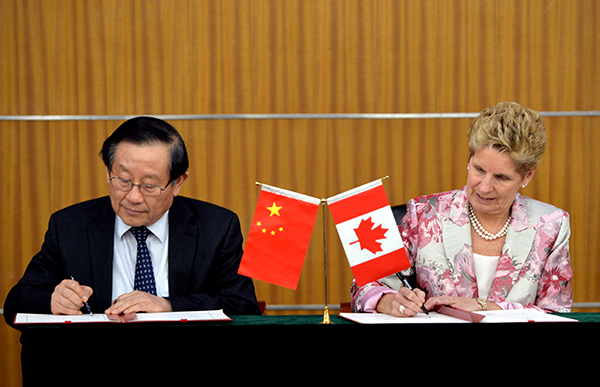 After the meeting, Minister Wan Gang and Premier Wynne jointly signed the Memorandum of Understanding on research and innovation cooperation between the Ministry of Science and Technology of the People's Republic of China and the Government of Ontario, Canada.
Vice President Xie Yuan of the Chinese People's Association for Friendship with Foreign Countries was present at the meeting. Also at the meeting were Director General Wu Yuanbin of the Department of S&T for Social Development, Deputy Director General Cai Jianing of the Department of International Cooperation, Deputy Director General Jiang Danping of the Department of S&T for Rural Development and Associate Counsel Mei Jianping of the Department of Hi-Tech Development and Industrialization of the Ministry of Science and Technology.