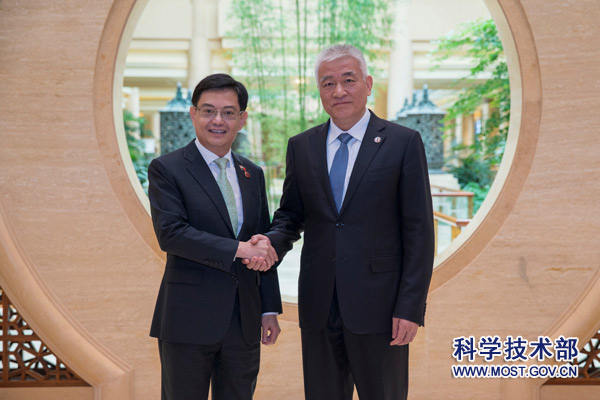 On May 25, 2019, Minister Wang Zhigang met in Shanghai with visiting Deputy Prime Minister, Minister of Finance and Chairman of the National Research Foundation Heng Swee Keat of Singapore. The two sides exchanged in-depth views on China-Singapore cooperation in STI and other issues of common concern.
Minister Wang Zhigang first thanked Deputy Prime Minister Heng Swee Keat for leading a delegation to the 2019 Shanghai Pujiang Innovation Forum. He said that cooperation in STI plays an important role in China-Singapore bilateral relations and promotes the development of an all-evolving, all-round partnership between the two countries. He remarked that China and Singapore have extensive cooperation in the field of STI, achieving remarkable results. Minister Wang Zhigang said that the Chinese side will be committed to open cooperation, further enhance intergovernmental science and technology cooperation with the Singaporean side, expand cooperation areas and raise the cooperation level.
Deputy Prime Minister Heng Swee Keat said that the Singaporean government attaches great importance to STI, and has rolled out a series of policy measures to boost innovation cooperation with other countries. He noted that as the country of honor at 2019 Pujiang Innovation Forum, Singapore is willing to further deepen its cooperation in science and technology with China and work together to contribute to enhancing human wellbeing and tackling global problems.
On the same day, Minister Wang Zhigang and Deputy Prime Minister Heng Swee Keat also attended the opening ceremony and plenary meeting of 2019 Pujiang Innovation Forum,"China-Singapore Night"and other events. Director-General Ye Dongbai of the Department of International Cooperation, Director-General Xu Jing of the Department of Strategy and Planning, Director-General He Defang of the Department of Policy, Regulation and Innovation System, Director-General Ye Yujiang of the Department of Basic Research and Director-General Bao Xianhua of the Department of Research Commercialization and Regional Innovation of the Ministry of Science and Technology attended the meeting.