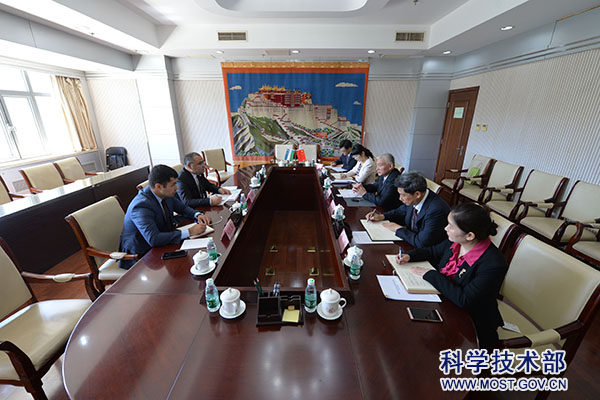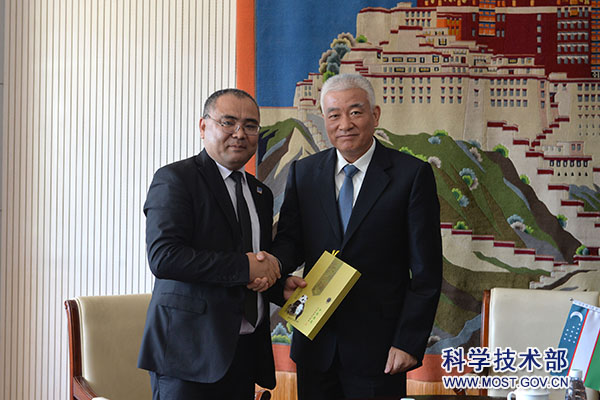 On August 28, 2019, Wang Zhigang, Chinese Minister of Science and Technology, met with Abdurakhmonov, Uzbekistani Minister of Innovative Development, who came to China to attend the Fifth Meeting of the China-Uzbekistan Committee on Intergovernmental Cooperation.
Minister Wang Zhigang pointed out that the heads of state of the two countries speak highly the development of China-Uzbekistan relations, which charts the course for pragmatic cooperation between the two sides in various fields. He said that the Chinese Ministry of Science and Technology has followed up with the important instructions of President Xi Jinping and the consensus reached between the two heads of state. Minister Wang Zhigang noted that under the guidance of the China-Uzbekistan Committee on Intergovernmental Cooperation, the Science and Technology Cooperation Sub-Committee has held four meetings, which have promoted practical cooperation between the two sides in such key fields as biomedicine, energy conservation, renewable energy and archaeology, and achieved positive results.
Minister Wang Zhigang made three proposals on deepening bilateral science and technology cooperation between the two countries: firstly, bear in mind the big picture of friendly cooperation between China and Uzbekistan, strengthen top-level design in the field of science and technology cooperation, and foster synergy of relevant strategic plans and policies; secondly, jointly facilitate people-to-people exchanges in science and technology, development of joint laboratories, science park collaboration and technology transfer, implement the Belt and Road Science, Technology and Innovation Cooperation Action Plan, and explore the combination of science and technology and economic and social development and environmental protection; and thirdly, promote cooperation under the multilateral frameworks such as the Shanghai Cooperation Organization (SCO), and jointly implement the SCO Science and Technology Partnership Program and the 2019-2020 Plan of Practical Measures (Roadmap) for Cooperation among Research Institutions of the SCO Member States.
Minister Abdurakhmonov applauded and echoed the suggestions made by Minister Wang Zhigang. He said that the Uzbekistani side admires China's achievements in development and highly values its relations with China. He hoped that the two sides can take the Belt and Road Initiative as an opportunity and fully leverage the bilateral government cooperation mechanism and multilateral mechanisms such as the SCO to strengthen cooperation in the fields of mutual interest, foster close personnel exchanges, jointly launch R&D projects, promote development of joint laboratories and research centers, and strengthen cooperation in technology transfer.
Director-General Wu Yuanbin of the Department of Science and Technology for Social Development and Deputy Director-General Zhao Jing of the Department of International Cooperation of the Ministry of Science and Technology attended the meeting.