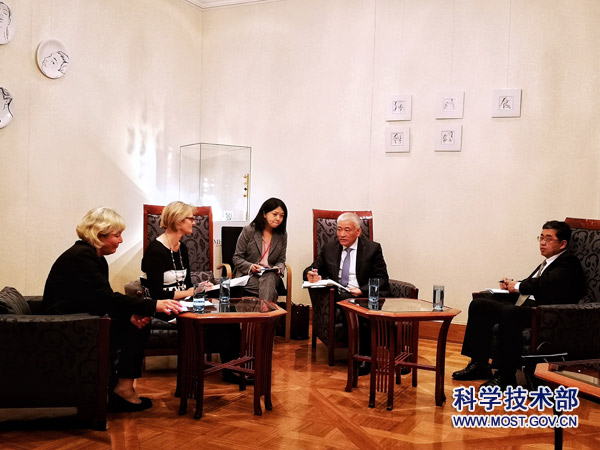 On October 11, 2019, Chinese Minister of Science and Technology Wang Zhigang led a delegation to Germany and met with German Minister of Education and Research Anja Karliczek on the sidelines of the Carnegie Group Meeting of Science Ministers in Dresden. The two sides reviewed the progress of bilateral cooperation in science, technology and innovation in the past year, and exchanged in-depth views on jointly promoting the bilateral cooperation to a new stage.
Minister Wang Zhigang said the meeting was to deliver on the agreement reached between Chinese President Xi Jinping and German Chancellor Angela Merkel last month and promote China-Germany STI cooperation to make more contribution to the comprehensive strategic partnership between the two countries. He said that both countries are active promoters and participants of the UN 2030 Agenda for Sustainable Development and called for joint proposals, held academic seminars and carried out practical cooperation in the field of climate change in the past year and that they should continue to explore cooperation in the fields of climate change, environmental protection, sustainable development and artificial intelligence in the future. Minister Wang Zhigang briefed his German host that China is adopting new visions of development, focusing on the balance of development quality and efficiency and the coordination of economy and ecology. He said that China is willing to maintain regular contacts with Germany, work closely in new fields, make top-level designs and strategic alignment, and expand exchanges between Chinese and German researchers.
Minister Anja Karliczek thanked Minister Wang Zhigang for accepting the invitation to attend the Carnegie Group Meeting of Science Ministers held in Germany this year, saying that at a time of rapid changes in the world, countries are in greater need of dialogues and cooperation. Minister Anja Karliczek briefed the Chinese guests on Germany's Climate Protection Law and the country's emphasis on circular economy and sustainable development. She noted that the Federal Ministry of Education and Research of Germany attaches great importance to cooperation with Chinese counterpart in climate change and personnel exchanges.
Director General Ye Dongbai of the Department of International Cooperation, Director General Xu Jing of the Department of Strategy and Planning, Director General Chen Jiachang of China Science and Technology Exchange Center of the Ministry of Science and Technology, and Yin Jun, Minister Counsellor of the Chinese Embassy to Germany were present at the meeting.