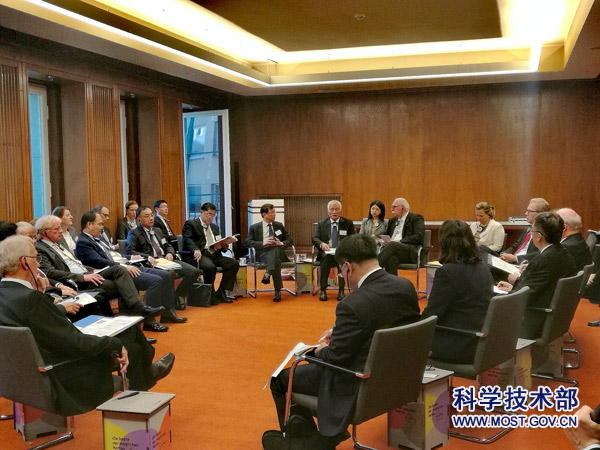 On October 14, 2019, Chinese Minister of Science and Technology Wang Zhigang and his delegation visited Germany and attended the China and Germany Science and Cooperation Seminar organized by the Alliance of Science Organizations in Germany. The meeting was presided over by Matthias Kleiner, President of Leibniz Research Alliances and Rotating Chairman of the Alliance of Science Organizations in Germany. Vice President Hou Jianguo of the Chinese Academy of Sciences, Vice Governor Lu Ke of Liaoning Province, Vice President Wang Chengwen of the National Natural Science Foundation of China, Secretary of State Wolf-Dieter Lukas of the German Federal Ministry of Education and Research, President Hacker of German National Academy of Sciences Leopoldina, Vice President Ferdi Schüth of Max Planck Society for the Advancement of Science, Vice President Katja Becker of German Research Foundation (DFG), President Margret Wintermantel of German Academic Exchange Service (DAAD), Vice President of Helmholtz Association of German Research Centers, Director Kurz of Fraunhofer Association, Director of the Division of Science and University of the German Ministry of Foreign Affairs, and other major leaders of the Alliance of Science Organizations in Germany and experts from China and Germany attended the seminar. The two sides engaged in lively discussions on strengthening cooperation in science, technology and innovation, addressing major challenges facing global economic and social development.
In his opening speech, Minister Wang Zhigang spoke highly of China-Germany cooperation in science, technology and innovation, and thanked members of the Alliance of Science Organizations in Germany for their contribution to the science, technology and innovation (STI) cooperation between the two countries. Minister Wang Zhigang said that science has no borders, and the STI development lies in open cooperation. Scientists around the world are constantly raising new questions and solving new problems, pushing forward economic and social development and progress. Minister Wang Zhigang noted that the Chinese government has long attached great importance to STI and will, as always, provide policy and legal frameworks for the development of science and technology. He remarked that the two counties should pay attention to the training of young researchers and lay a good foundation for future cooperation. He hoped that in the future the academic and industrial circles of both sides will strengthen communication and promote more practical cooperation in areas of common interest.
Secretary of State Lukas said that China and Germany have a long history of STI cooperation and have achieved remarkable results. He hoped that in the future the two sides should improve the quality of cooperation, increase exchanges between young people, and encourage more German youth to understand China. Vice President Hou Jianguo noted that cooperation between the Chinese and German academies of sciences is deepening and that with the signing of the Beijing Declaration in September 2019, the two sides will jointly strengthen basic research, promote scientific progress and solve a series of global challenges facing mankind. Vice Governor Lu Ke pointed out that Liaoning is a large industrial province with strong demand for STI, which will provide strong support for international cooperation including engagements with Germany and help promote industrial transformation and upgrading in Liaoning and constantly improve its R&D and innovation capabilities. Vice President Wang Chengwen said that the past three years has seen a substantial increase in STI cooperation between China and Germany. He pointed out that China-Germany cooperation plays an important role in the international cooperation between the two sides and that in the future the Chinese side will also strengthen overall coordination, paving the way for bilateral cooperation. Representatives of the members of the Alliance of Science Organizations in Germany also made speeches at the meeting and talked about the development of their respective institutions and cooperation with China. They discussed existing problems and made suggestions for China-Germany STI cooperation, hoping that both sides could jointly improve the institutional environment, provide a more convenient platform for STI cooperation, strengthen ties in basic research and applied science and provide more support for young people in both countries to carry out exchanges in research, innovation and entrepreneurship.
Minister Wang Zhigang responded by saying that China is constantly strengthening IP protection and improving laws and policies to build a better research environment. He noted that STI cooperation is of great significance to bilateral relations and that China is committed to openness and cooperation and will work closely with Germany, make good use of science to bring out its benefits while avoiding its pitfalls, provide more opportunities for young scientists of the two countries, and serve the socio-economic progress of both countries and beyond.
Director General Ye Dongbai of the Department of International Cooperation and Director General Xu Jing of the Department of Strategy and Planning of the Ministry of Science and Technology, and Yin Jun, Minister Counsellor of the Chinese Embassy in Germany were present at the meeting.
During his stay in Germany, Minister Wang Zhigang also visited China-Germany Joint R&D Center on Rail Transit Technology and Infineon, and attended the reception held by the Chinese Embassy in Germany for China-Germany cooperation in science, technology and innovation.