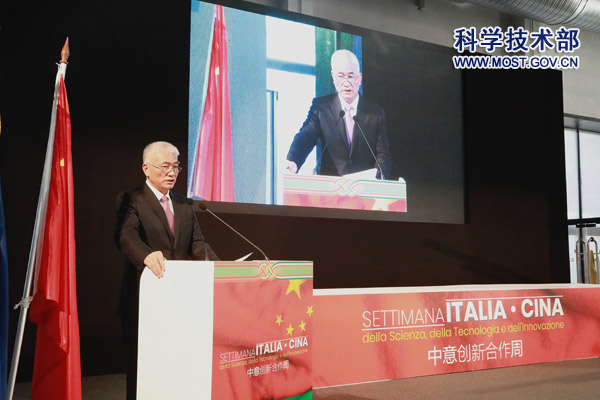 The 9th China-Italy Science, Technology & Innovation Week ("STI Week") was opened in Milan on December 4, 2018. Wang Zhigang, Chinese Minister of Science and Technology, and Marco Bussetti, Italian Minister of Education, Universities and Research addressed the opening ceremony.
In his speech, Minister Wang Zhigang pointed out that China and Italy have a long history of friendly exchanges, have aligned development strategies and share similar ideas on promoting bilateral cooperation in science, technology and innovation. As an important platform built by the two governments and a well-known event for intergovernmental exchanges in science and technology, China-Italy STI Week has won wide recognition and participation from scientists, engineers and entrepreneurs in both countries. Over the past nine years, the STI Week has attracted more than 7,000 representatives from China and Italy, partnered more than 5,700 technology projects between enterprises, helped reach nearly 1,000 intents of cooperation intention, and provided experience for the wider cooperation in science, technology and innovation between China and Europe and for cooperation under the Belt and Road Initiative. Minister Wang Zhigang observed that in the period of great development, great change and great adjustment, breakthroughs in science and technology provide not only a source of impetus for the development of emerging industries, but also a new perspective for re-examining the relationship between human, nature and society. He said that the selflessness of scientific research and the exchange and cooperation among scientists are the inherent requirements of research and also the main content of cooperation among countries. He noted that if we want to build a community with a shared future, we must fully unleash the potential of science, technology and innovation (STI), so that more people could benefit from scientific and technological progress. Minister Wang Zhigang said that Italy is China's important STI partner and the two countries should work together to meet global challenges, play a greater role in the global governance, and make their partnership a model of international cooperation. To this end, he proposed that the two sides"cultivate more drivers of economic growth with reliance on STI, jointly promote sustainable development and ecological protection with green technology, push forward coordinated regional development through specialized industrial clusters and hi-tech parks, improve mechanisms of people-to-people exchange and cooperation platform building, and form a new landscape of smooth and dynamic cooperation."In his speech, Minister Macro Bussetti spoke highly of the achievements of science and technology cooperation achieved over the past 40 years since the signing of the China-Italy Intergovernmental Agreement on Science and Technology Cooperation and believed that China and Italy enjoy high-level and complementary cooperation in science, technology and innovation across a wide range of fields, which is injecting new impetus into the comprehensive strategic partnership between the two countries. He said that China-Italy STI Week is a successful example of Italy's foreign cooperation and has played an important role in deepening the friendship between scientists and entrepreneurs of the two countries.
Carrying the theme of "China and Italy Join Hands for Win-Win Cooperation", the 9th China-Italy STI Week was held in Milan, Rome and Cagliari, Italy. Focusing on ten major areas of technology and premium resources for bilateral cooperation in innovation, the event was held to establish a high-level platform for exchanges and cooperation to promote the in-depth integration of innovation resources of both countries through keynote speeches, parallel forums, project roadshows, exhibitions, innovation and entrepreneurship competitions, and networking between science parks. It attracted more than 300 delegates from over 180 Chinese institutions in 19 provinces and cities, including Beijing, Shanghai, Tianjin, Guizhou and Hainan. More than 800 representatives from the two countries attended the opening ceremony.
At the opening ceremony, an achievement exhibition, the Launching Ceremony of 2018-2019 China-Italy Innovation and Entrepreneurship Competition & Best Projects Road Show, and a signing ceremony of cooperation projects were also held.
Before the opening ceremony, Minister Wang Zhigang held a bilateral meeting with Minister Marco Bussetti. The two sides reviewed the achievements of science and technology cooperation over the 40 years since the signing of the China-Italy Intergovernmental Agreement on Science and Technology Cooperation, fully affirmed the close relationship established in the field of science, technology and innovation, agreed to improve mechanisms and platforms for clustering and flow of resources, and exchanged indepth views on future China-Italy cooperation in science, technology and innovation. After the meeting, the two sides signed a joint statement on the ministerial meeting.
Li Ruiyu, Chinese Ambassador to Italy, Ye Dongbai, Director-General of the Department of International Cooperation of the Ministry of Science and Technology, Xu Qiang, Director-General of the Beijing Municipal Science and Technology Commission, and Song Xuefeng, Chinese Consul General in Milan, attended the opening ceremony of the STI Week and the bilateral meeting.