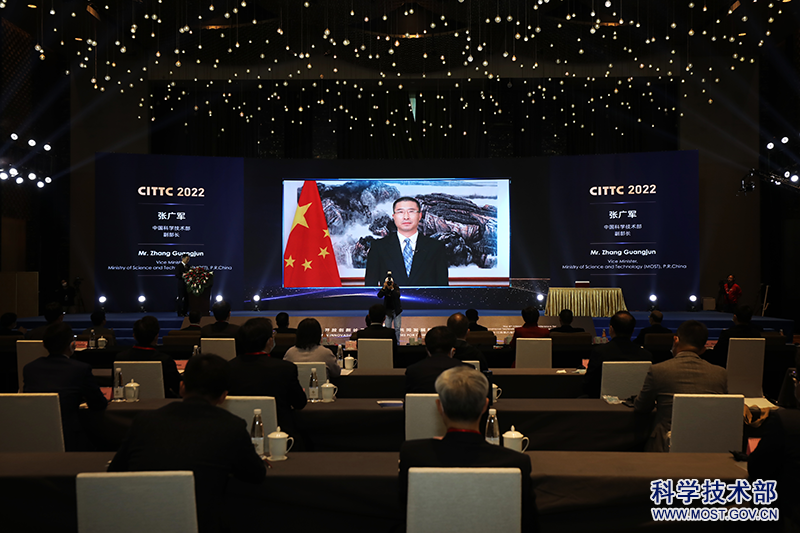 On November 9, 2022, the 8th China Jiangsu Conference for International Technology Transfer and Commercialization, co-sponsored by the Ministry of Science and Technology and Jiangsu Provincial People's Government, opened in Nanjing. Zhang Guangjun, Vice Minister of Science and Technology, delivered a video message, and Hu Guangjie, Vice Governor of Jiangsu Province, attended and addressed the conference. Chinese and foreign guest speakers, including leading officials of the Shanghai Science and Technology Commission, Zhejiang Provincial Science and Technology Department, and Anhui Provincial Science and Technology Department as well as the Consuls-General of Finland, Norway and Thailand in Shanghai, delivered online or pre-recorded messages. Representatives of relevant Chinese and foreign government departments, enterprises, universities and institutes, international technology transfer service agencies, foreign embassies and consulates in China and Chinese embassies and consulates abroad attended the conference either at the main venue in Nanjing or via the virtual platform. Sub-venues were set up respectively in Shanghai Municipal Science and Technology Commission and Anhui Provincial Science and Technology Department.
  In his speech, Vice Minister Zhang Guangjun pointed out that at the just concluded 20th National Congress of the Communist Party of China, General Secretary Xi Jinping emphasized that China will fully implement the strategy for invigorating China through science and education, the workforce development strategy, and the innovation-driven development strategy, expand science and technology exchanges and cooperation with other countries, cultivate an internationalized environment for research, and create an open and globally-competitive innovation ecosystem. In recent years, the Chinese government has always attached great importance to the advancement of science, technology and innovation (STI). STI now plays an increasingly important role in promoting China's economic development and the improvement of people's livelihood. By vigorously promoting open innovation, China has woven a closer"circle of friends"in the STI sector with friends, both old and new, from around the world. As China embarks on a new journey, it will implement a more open, inclusive and mutually beneficial international science and technology cooperation strategy, push forward global STI collaboration with a more open mind, actively integrate into the global innovation network, create a long-term and stable international research and innovation environment, and contribute more science and technology resources to the building of a community with a shared future for mankind.
  With the theme of "Yangtze River Delta: Open Innovation and New Opportunities for Common Development", this year's conference brings together the channels and resources for international science and technology cooperation in Yangtze River Delta, and creates a platform for transnational technology exchange, business talks and matchmaking events serving the whole country. Focusing on biomedicine and health care, new energy and environmental protection, new materials, and high-tech agriculture, the conference has attracted the participation, both online and offline, of more than 1,000 Chinese and foreign organizations from over 50 countries, and facilitated nearly 600 one-on-one business talks.