The first China-CEEC Think Tank Forum on Innovation Cooperation, themed on "Jointly Develop a Shared Future through Innovation-driven Growth", was successfully held in Ningbo via video link on December 15, 2022. Zhang Guanjun, Vice Minister of Science and Technology, Jiang Yu, Special Representative for China-CEEC Affairs of the Ministry of Foreign Affairs, Aneta Trpevska, State Secretary at the Ministry of Education and Science, North Macedonia, and Tomas Kakula, Director-General for Competitiveness at the Ministry of Economy, Slovakia, attended the forum.
  In his speech, Vice Minister Zhang Guangjun said that under the guidance of the China-CEEC cooperation mechanism, bilateral cooperation in science, technology and innovation has been gaining momentum, and has become a new highlight of China-CEEC cooperation. He suggested both sides strengthen strategic policy communication and identify directions of innovation cooperation, focus on frontier topics and provide intellectual support, and speed up the building of think tank networks and enhance the collaborative innovation capacity.
  Think tank representatives, specialists and scholars from China and CEEC had in-depth discussions on the fields, priorities, opportunities and challenges of innovation cooperation between China and CEEC, in order to tap the potential and explore feasible paths of cooperation, share high-quality cooperation results, and achieve a higher level of win-win benefits.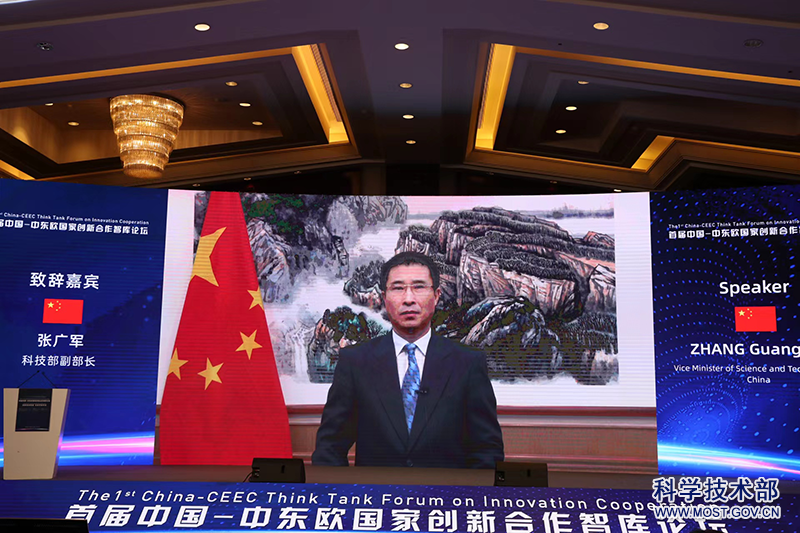 This year marks the tenth anniversary of the establishment of the China-CEEC cooperation mechanism. In the past decade, the two sides, with pragmatic cooperation in mind, have established a sound cooperation framework led by the leaders' meeting mechanism, covering business and trade, culture, education, youth, agriculture, tourism, science and technology, health, think tanks and localities. The China-CEEC cooperation mechanism has played a positive role in advancing bilateral ties and enriching China-EU relations.