On March 30, 2023, Minister of Science and Technology Wang Zhigang met in Beijing with visiting Singaporean Minister for Trade and Industry Gan Kim Yong, and they had an in-depth exchange of ideas on strengthening bilateral cooperation in technology and innovation.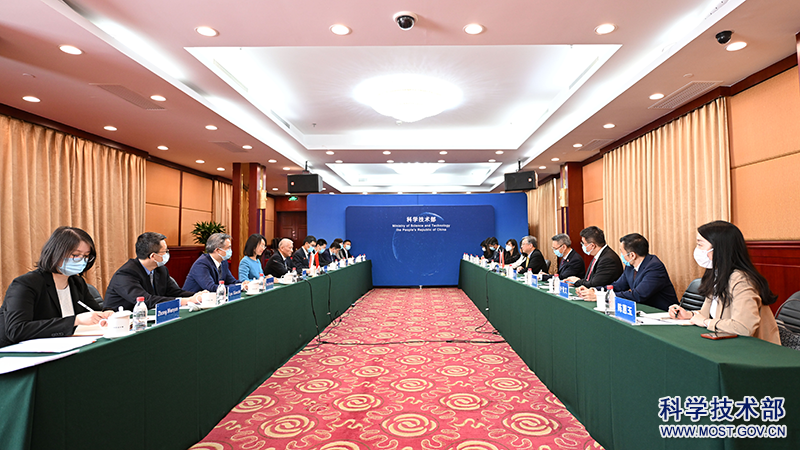 Minister Wang Zhigang said that China and Singapore are important partners of each other. In recent years, bilateral ties have maintained strong momentum, characterized by frequent high-level official exchanges, in-depth pragmatic cooperation as well as firm commitment to multilateralism and free trade, and these fruitful exchanges and cooperation have demonstrated that the bilateral ties are forward-looking, strategically important and exemplary. The Chinese Ministry of Science and Technology is willing to work with Singapore to implement the consensus reached by the two leaders, strengthen policy exchanges, promote R&D cooperation and the construction of innovation cooperation platforms, deepen cooperation under multilateral mechanisms, and advance bilateral relations to a higher level.
  Minister Gan Kim Yong said that Singapore has been pushing for globalization of open multilateralism, especially in the field of scientific research and tech development. In response to global challenges, Singapore looks forward to working with China to carry out tech cooperation in such areas as sustainable development, and jointly build cooperation platforms for innovative high-tech enterprises from both China and Singapore.
  Pan Xiaodong, Director-General of the General Office, Zhou Yunfan, Director-General of the Department of Research Commercialization and Regional Innovation, Dai Gang, Director-General of the Department of International Cooperation, Gao Xiang, Director-General of China Science and Technology Exchange Center, Lv Xianzhi, Party Secretary of Torch High Technology Industry Development Center, and Wang Rongfang, Senior Counsellor at the Department of International Cooperation, were present during the meeting.