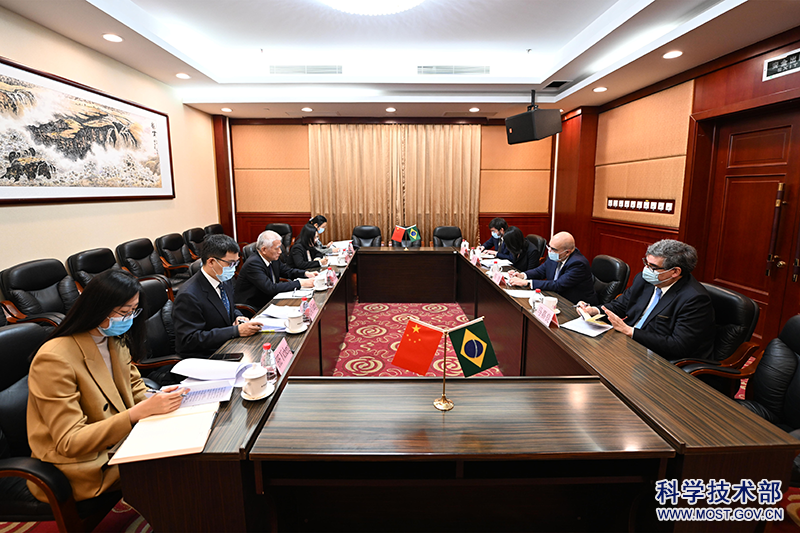 On March 23, 2023, Chinese Minister of Science and Technology Wang Zhigang met with Brazilian Ambassador to China Marcos Galvao. The two sides had an in-depth exchange of ideas on deepening bilateral cooperation on science and technology.
  Minister Wang Zhigang said that China and Brazil are comprehensive strategic partners. Since the establishment of diplomatic relations nearly 50 years ago, the two countries have maintained stable development of bilateral ties. Under the cooperation mechanisms such as the Science and Technology Subcommittee of China-Brazil High-level Coordination and Cooperation Committee (COSBAN), the two countries have maintained sound momentum in sci-tech cooperation, and witnessed enhanced cooperation between companies, universities and research institutions, delivering important achievements that benefit the people of our countries. China would like to work with Brazil to step up mutually beneficial cooperation in platform building, joint research, and researcher mobility.
  Ambassador Marcos Galvao said that the new Brazilian government attaches great importance to sci-tech cooperation with China, and speaks highly of the important role of sci-tech cooperation in the development of bilateral relations. Sci-tech cooperation between the two countries has a solid foundation and enjoys great potential. The Brazilian Embassy in China will continue to pay attention to bilateral cooperation in science, technology and innovation, and provide support for mutual exchanges and cooperation.
  Dai Gang, Director-General of International Cooperation at the Ministry of Science and Technology, and Joao Batista do Nascimento Magalhaes, Minister of the Brazilian Embassy in China, were present at the meeting.