On April 11, 2023, Chinese Minister of Science and Technology Wang Zhigang met in Beijing with Ali Obaid Al Dhaheri, Ambassador of the United Arab Emirates (UAE) to the People's Republic of China. The two sides reviewed the progress of bilateral cooperation on science and technology in recent years, and exchanged views on topics of common interest, such as how to deepen cooperation on science, technology and innovation between the two countries.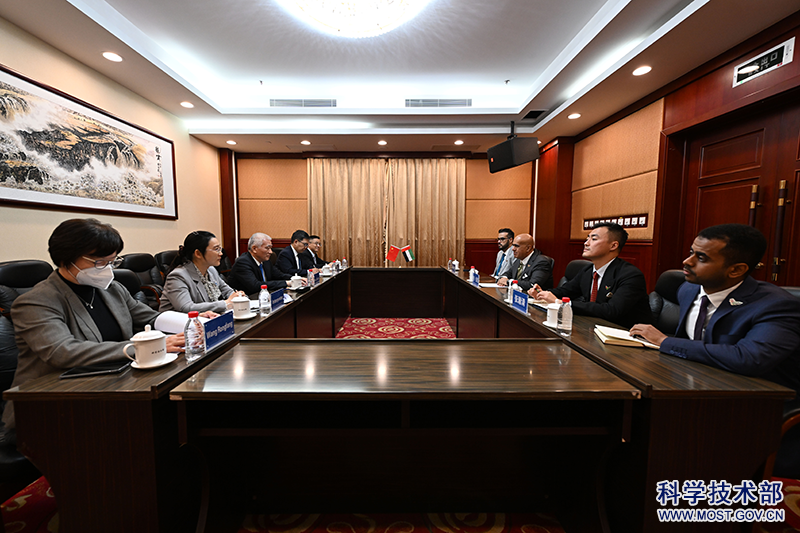 Minister Wang Zhigang said that in July 2018, the two countries announced the establishment of a comprehensive strategic partnership, opening a new chapter in bilateral relations. In May 2022, Chinese President Xi Jinping pointed out in a phone conversation with UAE President Mohammed that with the joint efforts of both sides, the comprehensive strategic partnership between China and the UAE has been consolidated and improved, and friendly cooperation has reached the highest level in history. In December 2022, President Xi Jinping proposed eight major initiatives for cooperation with Arab countries at the first China-Arab States Summit. He pointed out at the first China-Gulf Cooperation Council Summit that China would like to make concerted efforts with GCC countries in five key areas of cooperation. Guided by the important consensus between the heads of state of China and UAE, the two countries have carried out fruitful cooperation in such fields as scientific and cultural exchanges, joint research and technology transfer. Minister Wang Zhigang expressed his gratitude to Ambassador Dhaheri for his strong support and important contribution to the scientific and technological cooperation between the two countries since he took office, and expressed his desire to deepen bilateral cooperation under the framework of the "Belt and Road" Science, Technology and Innovation Action Plan, so as to benefit both countries and their people.
  Ambassador Dhaheri said that China-UAE friendship has a long history. Under the joint leadership of our heads of state, our countries have deepened the comprehensive strategic partnership, and expanded cooperation in economy, trade, science and technology.
  Dai Gang, Director-General of the Department of International Cooperation at the Chinese Ministry of Science and Technology, and Wang Rongfang, Senior Counsellor at the Chinese Ministry of Science and Technology, were present during the meeting.