On September 6, 2023, Minister Wang Zhigang met in Beijing with visiting Argentine Minister of Science, Technology and Innovation Daniel Filmus and his delegation.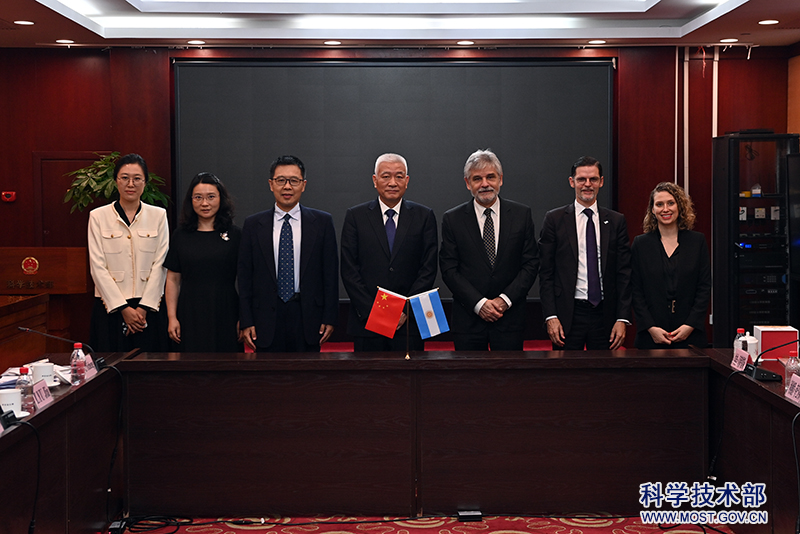 Minister Wang Zhigang welcomed Minister Filmus's visit to MOST. He stated that China and Argentina are comprehensive strategic partners. President Xi Jinping and President Alberto Fernández met twice in 2022 and led the bilateral relations into new heights. In recent years, the two sides have maintained close contact through China-Argentina Mixed Committee on Science and Technology Cooperation and the Science and Technology Subcommittee of China-Argentina Inter-Governmental Joint Permanent Committee, and have worked together to create new platforms for science and technology cooperation such as the China-Argentina Innovation and Technology Policy Research Center. China is willing to implement the major consensus reached by the two heads of state and deepen practical cooperation with Argentina.
  Minister Filmus praised the rich content and significant results of bilateral cooperation. Argentina is willing to conduct joint research in areas of common interest with China, serving the development of science and technology and addressing global challenges such as climate change.
  Gustavo Sabino Vaca Narvaja, Argentine Ambassador to China, Dai Gang, Director-General and Xu Jie, Deputy Director-General of the International Cooperation Department of the Ministry of Science and Technology attended the meeting.