On September 14, 2023, Minister Wang Zhigang met with Venezuelan Minister of Science and Technology Gabriela Jiménez and her delegation in Beijing.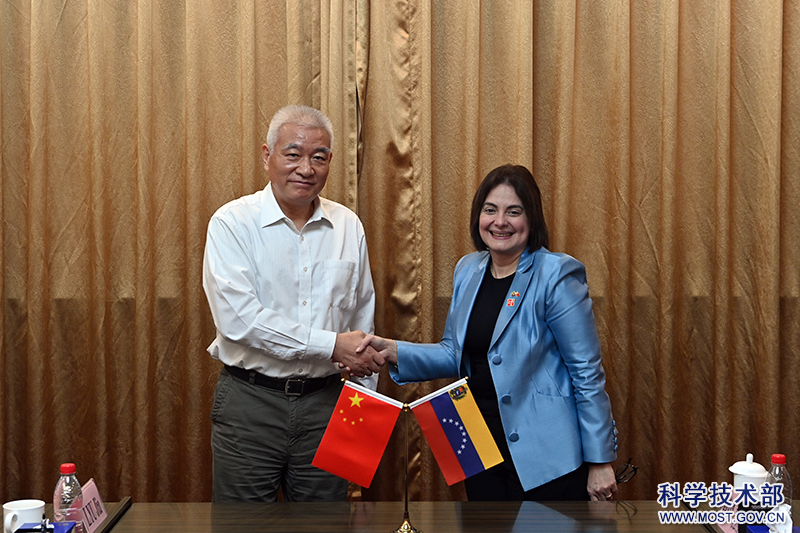 Minister Wang welcomed Minister Jiménez to visit China. He said that China and Venezuela are good friends and partners for mutual trust and common development. The two heads of state have elevated bilateral relations to an all-weather strategic partnership. Under this strategic guidance, China-Venezuela scientific and technological cooperation will usher in new era. China is willing to work with Venezuela to implement the major consensus reached by the two heads of state, strengthen dialogue and coordination between the science and technology ministries, and promote scientific and technological cooperation between the two countries to a new level.
  Minister Jiménez highly praised the achievements of China-Venezuela's scientific and technological cooperation. She expressed the hope of promoting exchanges and cooperation between young scientists, and promoting practical cooperation in areas of common interests.
  Alberto Quintero, Vice Minister of Science and Technology, Raúl Hernández, Director of the Digital Transformation Department of Venezuelan Ministry of Science and Technology and Adolfo Godoy, Director of the Venezuelan National Space Agency, and Dai Gang, Director General of the International Cooperation Department of the Chinese Ministry of Science and Technology attended the meeting.