On September 22, 2023, the 7th meeting of the Steering Committee on Sino-German Electromobility Cooperation was successfully held in Beijing. The meeting was co-chaired by Dai Gang, Director-General of the Department of International Cooperation of the Ministry of Science and Technology (MOST), and Prof. Klaus Bonhoff, Director-General of the Department of Basic Affairs of the German Federal Ministry of Transport and Digital Infrastructure. The two sides had an in-depth exchange of views on the development strategy for new energy vehicles in China and Germany, and the progress of Sino-German cooperation on electric vehicles and future cooperation.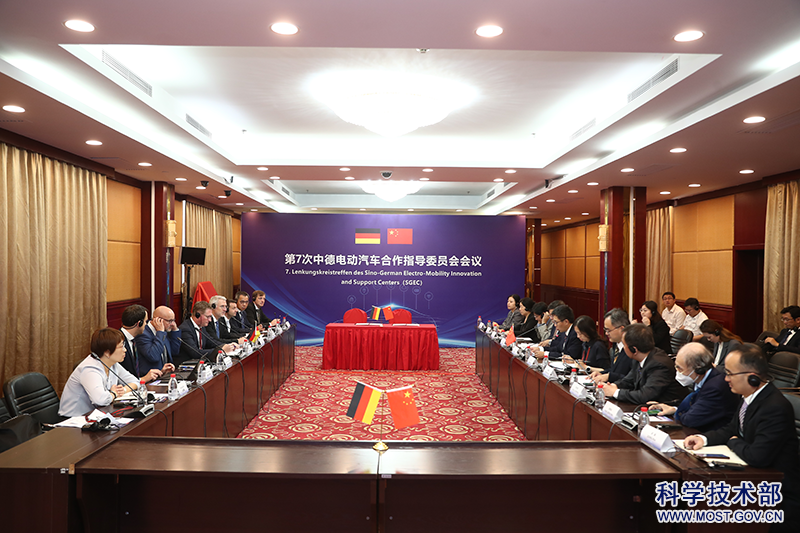 Director-General Dai Gang noted that during the 7th round of China-Germany government consultation in June this year, the two ministries signed the Joint Statement on Continued Cooperation in the Field of Innovation-Driven Technologies and Related Infrastructures under the witness of Chinese Premier and German Prime Minister. This meeting is a concrete action to implement the consensus reached at the 7th China-Germany intergovernmental consultations, and thus carries great significance. China-Germany cooperation on electric vehicles has a solid basis to build on and is mutually beneficial. Going forward, the two sides are advised to strengthen strategy and policy communication, fully harness the role of the Sino-German Electro-Mobility Innovation and Support Center (SGEC) as a communication platform to involve more universities, research institutes, enterprises and other innovation players from both countries in issues of mutual interest in the field of applied research.
Echoing Director-General Dai's comment, Director-General Bonhoff said that both China and Germany attach great importance to the development of electromobility, and the strong convergence of their development strategies. The SGEC has played an active role in promoting mutually beneficial cooperation in the field of new energy vehicles. The two sides will continue to encourage researchers from both countries to carry out technical exchanges and joint research, and deepen Sino-German cooperation on electric vehicles.
Director-General Dai and Director-General Bonhoff jointly witnessed the signing of the SGEC Implementation Agreement and unveiled the Sino-German Electric Vehicle Innovation Platform.
Wu Zhixin, Deputy General Manager of China Automotive Technology and Research Center Co., Ltd. (CATRC), Dennis Gremm, Economic Counselor of the German Embassy in China, and nearly 30 Chinese and German experts attended the meeting.