On September 21, the High-Level Roundtable on Top Science and Technology Clusters 2023, co-hosted by the Ministry of Science and Technology (MOST) and the World Intellectual Property Organization (WIPO), was successfully held in Beijing. Zhang Guangjun, Vice Minister of MOST, and Marco Aleman, Assistant Director General of WIPO, delivered opening speeches via video link.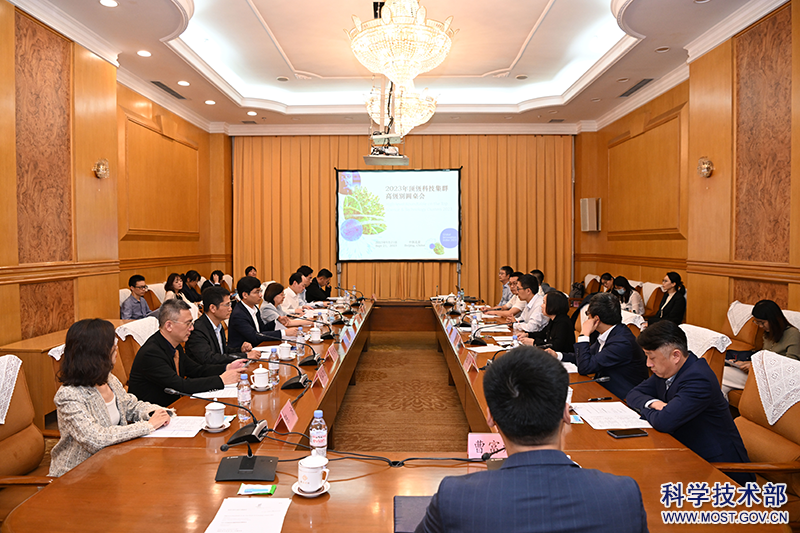 Vice Minister Zhang Guangjun said that the Chinese government attaches high importance to the development of science and technology and takes innovation as the primary driving force of development. In recent years, China has launched a host of major regional development strategies, including the Coordinated Development of Beijing-Tianjin-Hebei Region, the Yangtze River Economic Belt Development, and the Integrated Development of Yangtze River Delta, and supported the building of science, technology and innovation (STI) centers of global influence in Beijing, Shanghai, and the Guangdong-Hong Kong-Macao Greater Bay Area, laying the groundwork for an all-round and multi-level regional innovation network. China will, together with WIPO and other international organizations, continue to work with all countries in addressing major global challenges with innovative concepts, methods and achievements, promoting the innovation, application, management and protection of intellectual property rights, and strengthening the building of an internationalized research environment.
  Assistant Director General Marco Aleman briefed the roundtable on the WIPO Global Innovation Index's Science and Technology Clusters, and congratulated China's science and technology clusters for their exceptional performance in 2023.
  In the Science and Technology Cluster Ranking 2023 released by WIPO on September 20, China moved another step forward to become the country with the greatest number of clusters, with a total of 24 among the top 100. Among them, Shenzhen-Hong Kong-Guangzhou, Beijing and Shanghai-Suzhou are among the top five science and technology clusters in the world. Sacha Wunsch-Vincent, co-editor of the WIPO Global Innovation Index, and Guo Tiecheng, Deputy Director of the Institute of Scientific and Technical Information of China (ISTIC), gave keynote speeches at the roundtable, respectively on the overview of top science and technology clusters 2023 and China's regional innovation strategies and policies. Government representatives from Beijing, Shanghai, Guangzhou, Shenzhen, Suzhou and Hong Kong, as well as business representatives of Huawei Technologies Co., Ltd., Xiaomi Group, RAYCAN Technology Co., Ltd. (Suzhou), Shanghai Westwell Technology Co., Ltd., Guangzhou EHang Intelligent Technology Co., Ltd., and SmartMore Corporation Limited also participated in a roundtable discussion, and shared their experience on developing innovative cities and enterprises.
  Dai Gang, Director-General of the Department of International Cooperation of MOST, Xing Huaibin, Deputy Director-General of the Department of Strategy and Planning of MOST, Zhang Xu, President of the Chinese Academy of Science and Technology for Development, and Liu Hua, Director of WIPO Office in China, attended the meeting.